We manufacture high quality Automatic Cream Separator Machine that is made withexcellent qualitymaterials and components that are absolutely abrasion and rust proof hence very hygienic and efficient. Our fully automatic machine functions with very high speed for yielding high output in a very time consuming manner due to the very potentmotor that functions 1425 RPM speed in a very energy efficient manner. Our machine offers165 Liters / hr. output in a very swift mode. Our Tank Capacity is about 15 Liters.
Our dairy equipments are made in a very reliable manner such that they offer durably and are absolutely user-friendly. These are excellent for small dairy applications. We offer them at very reasonable rates. We also offer them in customized versions apart from standard versions.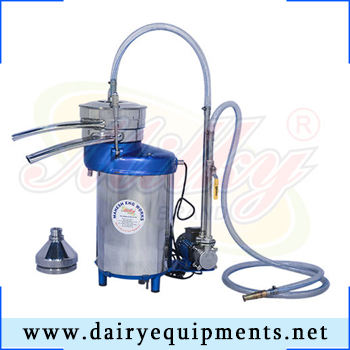 Specifications Of Automatic Cream Separator Machine:
Machine Capacity: 165 Liters / Hr.
Tank Cap.: 15 Liters
No of S.S. Discs: 22
Motor: 1425 RPM Single Phase Electric Motor 0.25 HP
Separation Temperature: 35 – 40 C / 95-108 F
Solid Removal Time: 1.5 Hour
Machine Length:  450 mm X Width: 450 mm X Height: 650 mm
Machine Weight: Net: 27 Kg Gross: 55 Kg Approx.
Bowl Material: M.S. / S.S. 304
Spout Set Material: CRCA Sheet / S.S. 304 Sheet
Receiving Tank Material: Aluminium Sheet / S.S. 304 Sheet
Expedient in Small Dairy Cream Separator Machines:- We offer our clients high quality Cream Separator Machine that is manufacture using an extremely sophisticated machinery. The raw material used for the fabrication of this equipment is procured from reliable and trustworthy vendors to ensure the durability of the end product. Cream Separator-Cream Separator Machine,Cream Separator Machine Manufacture,Cream Separator Manufacture In India.