Milking machines make the tedious and time-consuming milking process easier and faster. We are the well-known milking machine manufacturer of India and our machines have a good demand in both Indian and international cattle farms.
We manufacture this high quality and excellent functionality machines with very qualitative materials as well as hi-tech technology as per the norms of the industry. Our products are quality tested before they are supplied to the clients to make certain that our clients get only perfectly functioning products that have zero defects.
Our this range of products include Single Cow Milking Machine, Double Cow Milking Machine, Floor Mounted Single Animal Milking Machine and On Demand, Floor Mounted Milking Machine.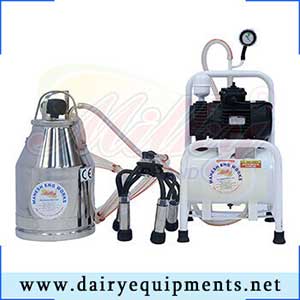 Salient features of milking machine:
Time saving
User-friendly
Zero-defects
Easy maintenance
Affordable