Our high quality Hand Operated Cream Separator machines have incredible demand in the market due to the simplicity & effortlessness in the usage and maintenance of this machine. These Hand Driven Cream Separator Machine are very efficient in their functionality of extracting the cream from milkwith a capacity of Capacity of about 500 Liters / Hr. the speed by which this machine can be operated is about 60 Rpm. These dairy equipments are preferred by our clients for domestic as well as dairy plant usage. These are easy to maintain, durable and have high resistance to corrosion. These are also very lucrative and we offer them at market leading rates.
Specifications Of Hand Driven Cream Separator Machine: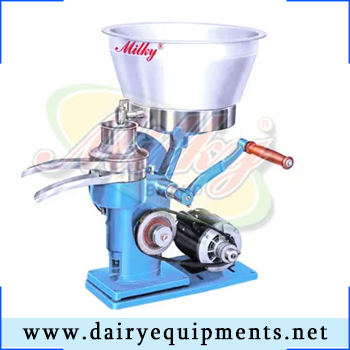 Machine Capacity: 500 Liter / Hr.
Tank Cap. : 40 Liter
No of S.S. Discs : 35
Provision to Operate by Hand : 60 Rpm
Motor : 1425 RPM Single Phase Electric Motor 0.50 HP
Separation Temperature: 35 – 40 C / 95-108 F
Machine Weight: Net: 80 Kg Gross: 180 Kg Approx.
Bowl Material: M.S. / S.S. 304
Spout Set Material: CRCA Sheet / S.S. 304 Sheet
Receiving Tank Material: Aluminium Sheet / S.S. 304 Sheet