Having years of experience of dealing with all kinds of dairy equipments, we offer an efficient series of milk valve. Considering the operational task of the milk valve, we make use of heavy gauge stainless steel for the fabrication of valve.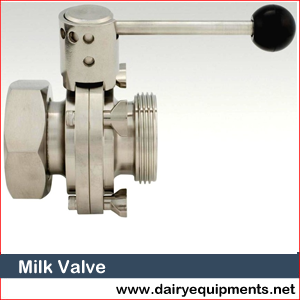 We offer many variations for the size and capacity. We also provide milk valve for your specific system. We offer exact device with reference to capacity for your specific settings.
We possess high-tech engineering unit for the fabrication of the milk valve. it is specially designed to fulfill all functionality of the operation. High grade material and simple mechanism made it easily repairable.
Long lasting working life
Easy to use
Easy to install
Highly durable
Easy maintenance


MILK TANKERS:-

As being biggest manufacturer and supplier of dairy equipments, we have designed milk tankers with robust construction. Considering the application area of the Milk Tankers, we offer highly capable unit to store and transfer the milk effectively.To fabricate durable and expedient milk tankers, we use stainless steel. Inner shell is 2 mm thick and made from SS 304 and outer tank is also 2 mm thick and made from SS 304. Our milk tankers contain all mounting and connections as per NDDB standards.
It contains SS manhole with dust cover. It also contains stainless steel valve box, mudguards and other essential accessories. The contact surface is made finished.

Robust construction
Easy to fill
User friendly
All accessories are of stainless steel.
Perfect insulation
Energy efficient
Least maintenance


MILK ADULTERATION KIT:-

Our milk adulteration kit is easy to use kit. It is also popular for its quick result. It is specially made to know the presence of varied components in the milk. Kit contains test reagents. Reagents are added to the milk and changing color of the milk shows the sign of the presence of the respected regent.

It does not need training to use such kit. According to the usage of the kit, it is available with varied size range. It is made for household use, for dairy or for big plants.
Presence of varied elements can be checked with our adulteration kit. One can detect the presence of urea, neutralizers, nitrate fertilizers or pond water, glucose, hydrogen peroxide, ammonia fertilizers, starch or cereal flours, salt and sucrose.

DUNK TANK:-

MAHESH ENG. WORKS is an ISO certified company provides efficient and robust machinery for dairy products. We are leading manufacturer and supplier of dairy machinery for all functions from milking to storage and dispatch. Considering the usage of the milk it is effectively carry out with cooling conditions.

Our dunk tanks contain double wall construction made from SS material. It is precisely made to provide longer service life. It contains high tensile strength. It is provided with essential accessories of high quality. It can be use for all dairy products along with milk. The products can be kept with stable temperature for long time duration.

All necessary accessories are made from stainless steel
SS man hole
Proper insulation
Rigid construction
Easy to use
Easy to clean