Aluminum Milk Cans Manufacturer – Aluminum Milk Cans Supplier – Aluminum Milk Cans Exporter
We offer enhanced quality Aluminum Milk Cans that are made utilizing high quality aluminum as well as components procured from the most reliable vendors of the market together with the hi-tech technology in adherence to the international standards of quality. These are quality tested Aluminium Milk Can Manufacturer for ensuring their robustness, abrasion resistance and corrosion resistance etc.
These cans are accessible in diverse capacities as well as sizes. Moreover, we also customize the Aluminum Milk Cans according to the specifications provided by our customer. Moreover, we supply these cans within the specified time duration to our customer.
Salient Features Of Aluminum Milk Cans
Smooth interior surface finishing
Robust neck beading enhances the wear resistance in the opening
Shrinkage free bottom bend is provided with even welding
Brazed Handles with excellent finishing
Both the cans and the lids are durable
Hardness more than 85 BHN guarantees high ductility as well as wear resistance
High durability because of high tensile strength, hardness and ductility
Anodized for outstanding finish while tolerating scratches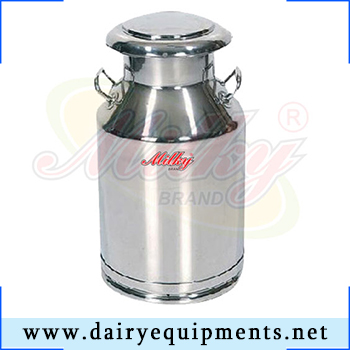 Specification (All Dimensions Are In MM)

Legends
60 Lt.
50 Lt.
40 Lt.
30 Lt.
20 Lt.
15 Lt.
10 Lt.M
Height of the Can in MM
771

3

651

4

591

4

512

4

447

4

440

4

355

4

Depth of the Can in MM
745

2

634

3

575

3

496

3

431

3

412

3

335

4

Inside diameter of Can in MM
360

3

360

3

340

3

320

3

280

3

240

3

220

5

Mouth of Can in MM
200

.5

200

.5

200

.5

200

.5

200

.5

150

.5

150

.5

Diameter of Bottom Bend in

MM

372

3

372

3

352

3

332

3

292

3

257

3

235

3

Wall Thickness in MM
3
2
2
2
1.6
1.5
1.5
Bottom Thickness in MM
3
3
3
3
2.5
1.8
1.8
Shoulder Thickness in

MM

2.5
2.5
2.5
2.5
2.5
1.8
1.8