We are India's top Dairy Processing Plant manufacturing, supplying as well as exporting company. These include a wide range of machines like our high performance Milk Mava Making Machine and Butter Making Equipment.
These are available in different output and specifications in standard as well as customized forms. These are made from the best grade material in austere adherence to the international quality norms as per the designs created by our practiced professionals. These are trusted by our clients for their unmatched quality and reliable performance
Our cutting-edge technology based machines are energy-efficient offer excellent productivity and are very lucrative. These need least maintenance and are very easy to install. These are also very user-friendly, offer smooth functionality in a very durable manner. Our machines are very affordable as well.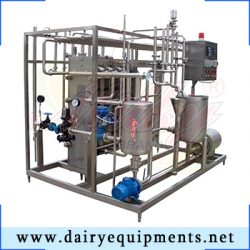 Milk Processing Plants, Equipments And Machinery
Milk Silos of Various Capacitie
P.H.E. Based C.I.P. System with Tanks
Ventury / Reconstitution Systems
Cream Ripening Tanks
Ghee Boiler
Ghee Settling Tank and Butter Melting Vat
Batch pasteurizer / Butter Milk Tanks
Curd Vat and Cheese Vat
Paneer Mould and Khoya Making Machines
Shreekhand Making Plants
Cream Separator
Cream Separator Machine
Cream Separator Machine Manufacture
Cream Separator Manufacture In India
Online Cream Seprator
Milky Cream Separator
Milk Separator
Milk Separator Manufacture In India
Hand Crank Cream Seprator
Milk Cream Separator Exporter
Hand Operated Cream Separator
Electric Cream Separator
Horizontal Milk Storage Tanks
Vertical Milk Storage Tanks
Weigh Bowl and Dump Tanks
Bulk Coolers of Various Capacities
Ice Bank Tanks
Refrigeration Systems
Chilling Plants and Ice Plants
Homogenizer
Pasteurizer with Float Balance Tanks
Online Filters and Vertical Filters
Road Milk Tankers of Various Capacities
Milkcreamseparator Manufacture
Milking Machine
Milking Machine ManufactureMobile Milking Machine
Portable Milking Machine
Hand Operated Milking Machine
Milking Machine Manufacture
Milking Machine Suppliers
Cow Milking Machine