Our milking machines are highly commended in the market due to their efficient, safe and user-friendly design and functioning. With our time to time updating with thecutting-edge technology, we are involved in manufacturing Floor Mounted Single Animal Milking Machine that are made with the excellent quality basic materials and components. We manufacture them in adherence to the international standards of quality. These are very safe and harmless to the animals milked.
These machines function very rapidly in a very smooth and consistent pumping manner leading to maximum yield. Since these are highly lucrative are preferred in majority of the dairy farms in India. We are the leading Floor Mounted Single Animal Milking Machine supplier of India.The price of these machines is also very cheap.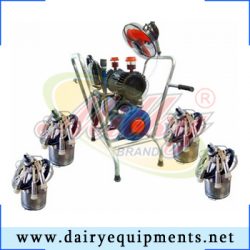 Floor Mounted Single Animal Milking Machine
Oil lubricated Vacuum Pump with Electric motor of 0.5 HP Single phase, 50 Hz, Silencer with built in, Valve and Trap, Vacuum Storage tank with Drain Plug & accessories such as oil cup etc.
Milking cluster complete with peculator, liners milk claw, 25 Lt S.S bucket, milk tube, Short pulsation tube Vacuum house etc.
40 ft PVC, 40 mm pipe line, 05 no. Vacuum cocks complete with PVC fitting, vacuum gauge and interconnected accessories such as PVC coupler bends, etc.
Accessories such as Brush set to clean Milking cluster, pump oil cup etc.
Electric connection of single phase, iron support for installation of Vacuum line has to be purchased by the buyer.